External Community Resources
Sussex County Fair Housing Resources
Home Of The Brave is a non-profit organization that provides support to military veterans during their journey toward permanent housing. Home Of The Brave strives to be seen as the premier transitional housing facility for male and female veterans of all military services in the State of Delaware. Their mission is to reduce homelessness among the Military Veteran population by providing temporary housing, food, stability, counseling services, transportation, employment assistance, access to healthcare, and locating affordable housing. If you are a displaced veteran in need of help, then visit their website.
6632 Sharps Rd, Milford, DE 19963
302-424-1681
Housing Alliance Delaware strives to provide housing for all in thriving and diverse communities. Their mission is to advance housing opportunities, end homelessness, and promote vibrant communities. If you are homeless and in need of an emergency shelter, please call 1-833-346-3233. Visit their website.
100 W 10th St #611, Wilmington, DE 19894
302-654-0126
Energize Delaware is all about helping you save money and reduce energy consumption by becoming more energy efficient. They educate you on proper energy-saving techniques, recommend products and upgrades that will reduce energy costs, get you access to rebates and government energy programs, and connect you to contractors you can trust. Energize Delaware helps individuals, businesses, and nonprofits alike. Visit their website for more info.
500 W Loockerman St #400, Dover, DE 19904
302-883-3048
Milford Housing Development Corporation is a value-driven, nonprofit, affordable housing developer, providing services throughout Delaware. Their mission is to provide decent, safe, affordable housing solutions to low-income families and individuals. What started as a group of concerned citizens who decided to make a difference in 1977 has resulted in MHDC becoming Delaware's leading nonprofit provider of affordable housing. Visit their website for more info.
977 E. Masten Cir, Milford, DE 19963
302-422-8255
Sussex County Community Development and Housing provides decent, safe, and affordable housing opportunities to people of low and moderate incomes in Sussex County. Since 1990, they have assisted over 3,600 families with housing needs. Visit their website for more info.
308 North Railroad Avenue Georgetown, DE 19947
302-856-7761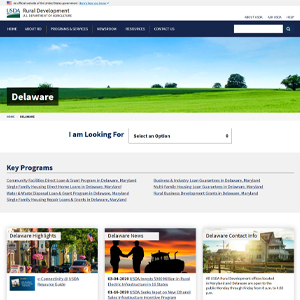 USDA Rural Development is committed to helping improve the economy and quality of life in rural America. They offer loans, grants, and loan guarantees through banks, credit unions, and community-managed lending pools to help create jobs and support economic development. USDA Rural Development offers technical assistance and information to help agricultural producers and cooperatives get started and improve the effectiveness of their operations. They also help rural residents buy or rent safe, affordable housing and make health and safety repairs to their homes. For more info, visit their website.
21315 Berlin Road Unit 2 Georgetown, DE 19947
302-856-3990
Casa San Francisco Center provides a wide range of services aimed at helping low-income residents of Sussex County. They provide meals and emergency temporary housing for adults. A case manager works with each resident to help secure affordable housing, medications, clothing, and transportation. Besides temporary housing, Casa San Francisco Center also provides emergency food supplies and supplemental groceries to those who are in crisis and cannot buy food. If you are in need of help, visit their website.
127 Broad Street Milton, DE 19968
302-684-8694
The Christian Storehouse thrift store provides gently used clothing, furniture, housewares, toys, and more. They even have an emergency food pantry available to those who are in immediate need and reside in the Millsboro 19966 Zipcode. For more information, please visit their website.
149 Mitchell St, Millsboro, DE 19966
302-934-8151
Sussex Community Crisis Housing Services, Inc (SCCHS), has been providing shelter and supportive services to homeless individuals and families since 1981. The agency's atmosphere creates an environment that nurtures personal and family dignity, enhances self-esteem, and promotes independence, housing stability, and financial security. As the economy and housing market has changed so have the 'faces of homelessness', SCCHS never missed a beat in meeting the needs of the newly homeless. Sussex Community Crisis Housing Services (SCCHS), Inc. provides safe and secure temporary housing to the homeless and facilitates the transition from homelessness to financial and housing independence. Visit their website.
110 North Railroad Georgetown, DE 19947
302-856-2246
The Hope House provides transitional housing for homeless families. It can accommodate 4 families with a maximum stay of 90 days. Applicants must be homeless, working, and adhere to the rules as guests of The Hope House. This program primarily helps Laurel families but exceptions can be made in emergencies. Fees may apply for this Transitional Housing resource. Contact The Hope House Laurel Delaware at (302) 875-6943 for full details.
31039 North Poplar Street Laurel, DE 19956
302-975-6943
House of Mercy is a multi-faceted Church dedicated to helping and strengthening the community by outreach. SOUL delivers prepared food, non-perishable food, toiletries, blankets, pillows, sleeping bags, clothing, and the Love of Jesus. Currently, they hit the streets on Thursday nights, traveling to hotels and camps in Sussex County. If you would like to learn more about House of Mercy Transformation Center, then visit their website.
Selbyville, DE
302-632-4289
The Ministry of Caring Inc. provides emergency shelters for women, women & children, and single men in Wilmington, Delaware. Their emergency shelters help individuals successfully navigate the journey toward self-sufficiency through case management, counseling, housing assistance, and job placement. For more information, please visit their website.
1103 West Eighth Street, Wilmington, DE 19806-4605
302-652-5523
The Salvation Army serves displaced men, women, and children 365 days a year through homeless shelters, transitional housing, permanent supportive housing, and vocational services. Visit their website to find a shelter near you.
104 West 5th Street, Wilmington, DE 19899
302-472-0754
The Shepherd Place is a family shelter for women & children in Dover Delaware. The Shepherd Place was founded by Father Lawrence Hunt and others who felt an acute desire to work to meet the needs of those in the Dover area who were homeless. They provide housing, case management, food, and other basic needs at no cost to those who need them. For more information, please visit their website.
1362 South Governors Ave, Dover, DE 19904
302-678-1909